Manage episode 295190639 series 2739087
Από
Strange Familiars
ανακαλύφθηκε από την Player FM και την κοινότητά μας - τα πνευματικά δικαιώματα ανήκουν στον εκδότη, όχι στην Player FM και ο ήχος αναπαράγεται απευθείας από τους διακομιστές μας. Πατήστε το κουμπί Εγγραφή για να παρακολουθείτε τις ενημερώσεις στην Player FM ή επικολλήστε το URL feed σε άλλες εφαρμογές podcast.
Chad and Timothy continue their night at Gazoo's Woods. After spending more time at the cemetery, they drive to the other side and approach Gazoo's Woods from the opposite side. Red eyeshine is seen. Requests are made, and responses are given. Weird cries are heard. Something is thrown. A few days later, Timothy returns to Gazoo's Woods alone and finds a possible tree structure and a stuffed animal…with the eyes torn out.
If you would like to help us continue to make Strange Familiars, get bonus content, t-shirts, stickers, and more rewards, you can become a patron: http://www.patreon.com/StrangeFamiliars
If you would prefer a one-time payment to help us out, here is a PayPal.me link - you can change the number 25 in the URL to any amount: https://www.paypal.me/timothyrenner/25
Our Strange Familiars / Lost Grave etsy shop has art, books, patches, t-shirts, and more ... including original art done for Strange Familiars: https://www.etsy.com/shop/lostgrave
Strange Familiars t-shirts and other designs are available here: https://www.teepublic.com/stores/strange-familiars?ref_id=14000
Episode 243 notes and links:
MHz Choice: https://mhzchoice.com (make sure to enter the code STRANGE at checkout to get your first month free)
90 Days to the Perfect Puppy: https://perfectpuppies.sithappens.us/90-days
Riverbend Comics: https://www.riverbendcomics.com
Karmic Garden: https://www.etsy.com/shop/KarmicGarden
Timothy's collection of post-MS attack drawings, Monsters Under the (Hospital) Bed is available now in our etsy shop: https://www.etsy.com/listing/1023391289/monsters-under-the-hospital-bed-art
Timothy's book of paranormal illustrations, Apparitions, is available to order now… directly from us: https://www.strangefamiliars.com/home/apparitions-illustrations-of-the-other-book or, if you prefer, on etsy: https://www.etsy.com/listing/877387099/apparitions-art-book-by-timothy-renner
Timothy's book, with co-author Joshua Cutchin, Where the Footprints End, Volume II, ordering information: https://www.strangefamiliars.com/home/where-the-footprints-end-volume-ii-available-now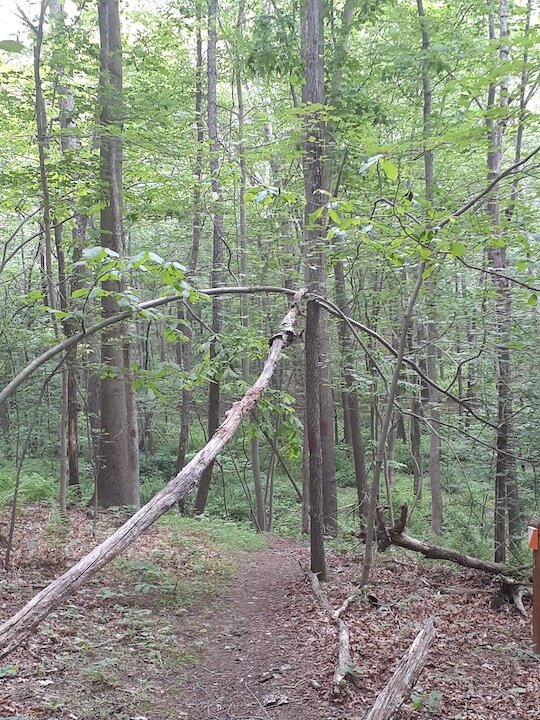 Possible tree structure found over the trail - about where we saw the eyeshine a few nights before.
The offering area at the cemetery - with the rock Chad left in the middle.
I found the pug after all.
Its eyes were torn out. Creepy.
The remains of the pony stuffed animal, under a fence rail.
Wolf spider.
Wolf spider, close-up.
Strange Familiars Photo of the Week #75: Possible Cult Leader
You can purchase this item in our etsy shop: https://www.etsy.com/listing/1037468377/possible-cult-leader-strange-familiars
You can purchase this photo in our etsy shop: https://www.etsy.com/listing/1033799673/fashion-plate-strange-familiars-photo-of
Timothy's books: https://www.amazon.com/Timothy-Renner/e/B072X44SD5
Strange Familiars 'Awoken Tree' t-shirts are available in our Etsy shop: https://www.etsy.com/listing/739690857/strange-familiars-podcast-awoken-tree
Alison: https://www.etsy.com/shop/odpeacock
Chad's YouTube channel: https://www.youtube.com/channel/UCNB7MSJ2F1SRBPcQsEFLnvg (make sure to subscribe to Chad's channel, Ruck Rabbit Outdoors.)
Chad's etsy shop: https://www.etsy.com/shop/RuckRabbitOutdoors
To help with the Capuchin Day Center's work with the homeless you can donate here: https://www.capuchindaycentre.ie
and here: https://www.cskdetroit.org
Contact us via email at: strangefamiliarspodcast@gmail.com
http://www.facebook.com/strangefamiliars
Join the Strange Familiars Gathering group on facebook: https://www.facebook.com/groups/strangefamiliars/
instagram: @strangefamiliars
http://www.strangefamiliars.com
Intro and background music by Stone Breath. You can find more at http://stonebreath.bandcamp.com
The closing song is Whispers in the Wood by Stone Breath - from the album, Witch Tree Prophets: https://stonebreath.bandcamp.com/album/witch-tree-prophets
Support this podcast at —
https://redcircle.com/strange-familiars/donations
Advertising Inquiries:
https://redcircle.com/brands
Privacy & Opt-Out:
https://redcircle.com/privacy
211 επεισόδια